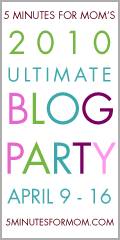 So who's doing the Ultimate Blog Party starting tomorrow?  Anybody I know? 
I had heard of it last year, but I've never participated.  I'm thinking.... sure would be cool to see some new people around here and to find some new bloggers out there.
So I think I've gotta run.  I need to go produce a vlog for the big event.  I wonder what I should wear?   Maybe I should brush my hair.
If you want to participate, you should go to 5MINUTESFORMOM.COM for all the info.  FYI... you don't have to be a mom to participate.