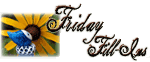 This is another new blog I found that provides a Friday meme.  Thought I might try it out and see how I like it.  And of course, I've got my whole NaBloPoMo obligation to fill, so I should put these kind of posts to good use.  Right?  The idea is that I'm supposed to fill in the blank, so the parts in bold are my answers.
1. I love springtime in April!  Now if we could just get the snow to stay away for good until next winter.... 
2. Banana Pecan Stuffed Pancakes and Strawberry Banana Crepes from Bob Evans or a Pineapple & Ham Omelette are foods I love to eat for breakfast.
3. It seems I'm always searching for a snack that fits within the limits of my First Place diet.
4. A bowl of ice cream is a great way to end the day.
5. I think I want to take a vacation to Disney World really bad...like next week, if I could!
6. Coldstone Creamery and Chinese food is what I've been craving lately.
7. And as for the weekend, tonight I'm looking forward to blogging a little, tomorrow my plans include shopping for shoes and Sunday, I want to go to church then take a nap as usual!
Can you tell that I've been feeling a little hungry this week?  I think I better lock myself in the house until the food cravings pass.  Aiy-Aiy-Aiy!